Aion: The Tower of Eternity Update 1.1
On March 4th, 2009, the game was patched to 1.1 on the main server.
The two most noticeable changes of the updates are as follows:
1. Level cap raised from 45 to 50
2. New areas for 45-50 lvl characters in lands of Elyos and Asmodians
Other than that, new skills, equipments, an armor set, and contents have been added for Aion players to enjoy.
Table of Contents
1. New Areas
2. New Skills and Skill Function Changes
- New Class-exclusive Skills
- Ultimate Stigma
- Skill Function Changes (Nudge Nudge)
3. Devanion Items Added
4. Platinum Coins Rewards Involving Orange Items
5. Set Bonuses
- Boss Monster Set Drops
- Crafted Sets
6. Unique Artifact Weapon+Shield Series
7. New Craftable Items
8. New Vitalities (Materials)
9. New Character Titles
10. Manastone System Function Changes
11. A Makeover NPC to Change Your Character Looks
- New Character Customization
12. Craftstone Exchange System
13. Changes to the Abyss and PvP
14. Wellness Condition System
15. User Interface Changes
- Marking System Modified
- Advanced Broker Search
- Other Interface Changes
16. Others
1. New Areas
New areas for level 45-50 players have been added in Theobomos and Bluesthonin (Didn?t play Asmodians), which were previously zones for levels 20-25. In these new zones, level 45+ Monsters appear and accommodate only players of the highest level.
Elyos ? Theobomos
The age-old story involving ancient ruins of shrines continues.
In this place exists areas scorched by evil fire spirits. By slaying monsters, players help the Daevas dispatched to put the never-ending flames to rest, or prevent conflicts that may rise in the future. Also, you can save a shugo who was put in danger while trying to find treasure, receiving clues about the treasure afterwards.
Area Levels
New Boss images (Not all of them, names excluded due to unpredictability of translation)
Asmodians ? Bluesthonin
Due to a curse the area has become polluted, occupied by undead monsters.
To stop the pollution, Asmodians planted a seed of a holy tree to at keep their village safe. And from this point, players go on missions to fight pollution in other areas. Due to geographical blockade by mountains, the north areas are nearly unscathed by the effects of the pollution, and by meeting the Moogle tribe, players can receive quests to combat this evil.
Area Levels
New Boss Monsters (Again, not including all, excludes some names due to translation conflict)
P.S: Apparently they are all inside a vampire castle, step by step bosses each leading to higher bosses.
Also some of these new monster contents are 1.2
2. New Skills and Skill Function Changes
New Class Exclusive Skills
Due to the level cap raise to 50, new skills have been added. This includes the standard higher rank skills of the previous lower level skills (ie Chain Pattern Carving III -> Chain Pattern Carving IV), as well as new skills for classes never seen before.
These new skills can be acquired from Sanctum skill trainers or Pandaemonium skill trainers.
New Skills Translated:
Just too many of them.
BUT I can tell you that from each level up from 45, every class gets new skills, and lots of them. So each levels up from 45 will be rewarding.
Ultimate Stigma (don?t know how its going to be called in translation)
The lvl 45 stigma stones now have a Ultimate- prefix on them. Basically automatically buffed the stigma to the power level of lvl 50, but you can still equip them at lvl 45, so more power to you.
IF I read that right, that is.
Skill Function Changes (Balancing)
Along with skill changes in this update, some skill function changes have been made as well.
Any misused/abused skills that gave unintended amount of powercreep have been fixed, and broken skills were slightly nerfed as well. Also, due to the race-exclusive skills imbalance complaints, the skills have been adjusted.
Now then, let?s have look at these changes:
(Skill names might not be exact because I am using a complete translation on a Greek fansite, included min level and skill description to avoid confusion)
Gladiator:
- Lvl 45 Wave Stigmas now have a defence debuff effect
- New chain skills added for Gladiator range-attack skill, comes after Blade Throw
Templar:
- Can now use the Double Armor skill (lvl 40, remove all debuffs and 50% less dmg for 30 sec) while using a Great Sword (2handler sword)
- Stigma skill Provocation?s range increased from 9m to 10m
- Shout?s skill effect (the defensive part only, 10 seconds of increase attack power + shield absorption starting at lvl 7) is now applied after the Double Armor skill effect.
- Lowered the damage from reflected attacks for DP skill.
Ranger:
- Firing Stance Stigma skill (not in Hellrose?s Stigma Guide, Toggle Skill instant cast 1min recharge: 10% bow range increase but greatly reduced moving speed) now reduces flight speed as well.
- Can no longer use Sandstorm Trap (lvl 40 skill, inflicts blind + spellcasting time increase if triggered) in flight.
- Removed the bug that prevented the removal of stacked effects of Shock Arrow and Snare Arrow with a single healing potion.
- Gryphon Arrow and Condor Arrow stigma skills now have same affects, both doing damage at a low accuracy.
- Shock Arrow and Shackle Arrow race-exclusive skills now have same affects, both snaring and reducing dodge by 1000 points for 10 seconds.
UHH SA SSIN!!!!!! ?
- Elyos lvl 45 Stigma Skill Holy Xplosion of Epic Illumination now includes an attack speed debuff affect.
Sorcerer:
- Stone Skin now reduces damage only when the character is in battle (stance)
- Dimension Backdoor skill now eliminates all speed debuffs on self.
- Cold Summoning (the lvl 25 skill close quarter water dmg spell)?s range increased from 2m to 3m.
- Grace of Speed Stigma skill?s cast time reduction effect increased from 35% to 50%.
Spiritmaster:
- The Stone Skin change same as Sorcerer.
- Speed buffs on enemy no longer work under Lvl 42 Curse: X Spirit skills. (someone confirm this)
- Summoning Skills can now be used under flight.
- Scream of Horror Stigma skill now requires less mana to cast.
- Disciplined Prisoner skill (lvl 31 skill eliminating summon cast time) recharge increased to 1 min
- Fixed the bug that prevented the buffs and debuffs of the class ending normally.
Cleric:
- Reduced the damage of Punishment I (lvl 34 fire dmg skill) and increased damage of Punishment II (lvl 46 fire dmg skill)
- Earthly Retribution V (lvl 44 earth dmg skill) damage reduced.
Chanter:
- Able to use Chants of Shield (lvl 13) Life (lvl 34) and Protection (lvl 37) in non-battle (stance).
3. Devanion Items
As the rewards of new quest Devanion Quest added in 1.1, these items are a new line of items similar to the series of Abyss and Draconic Items.
These Items are untradable, unsellable, cannot be stored in legion warehouse, and finally cannot have their skin changed.
Doing a quest or two will get you these Blue items. But heres the thing.
THE QUEST IS NOT REPEATABLE.
Therefore, you need to grow 5 characters to level 30 to get a full set, which will enable you to get the weapon quest.
Might seem (omg) at first, but heres the thing:
- A new fatigue system that lets you gain +20-30% exp if you are on a ?Rested? condition effect
- Items are account storage-storable (THIS = PWNED)
- Can exchange Devanion items to different Devanion items (def gear to def, weaps to weaps).
So its not THAT hard, but still hard to get 5 characters to level 30. But it will be rewarding, as having 5 will solve the equipment problem nice and easy for your characters remaining lvl 30.
P.S: VERY VERY VERY Low drop rate at Abyss, late 20?s level monsters. Also, the weapons are symbols of status (ie Hero Rank Emotes in GW), since you must gather a full set before going on weapon quests.
4. Platinum Coins Rewards Involving Orange Items
Coin Reward Quests. On top of these coins sits the Platinum Coins, which are rewarded after repeatable quests Bring A LOT of Platinum Coins to a reward NPC, and they?ll reward you with some sweet Orange G.E.A.R.
The only thing is that the quests are lvl 46+ and involve some killing before you get a coin, so probably done in groups.
You also get an Angel?s eye or Devil?s Eye from the quests, which you can trade into special NPC?s with a kina betting of 1k, 5k, or 25k for additional Platinum Coins in return.
Heres some research done:
1k
5k
25k
Each research done 500 times.
Blue = Broken Coin
Red = 1 Coin
Green = 2 Coin
Purple = 3 Coin
Teal = 4 Coin
Orange = 5 Coin
Sky Blue = 6 Coin
5. Set Bonuses
Jesus was I not surprised when I saw no set bonuses in C-Aion. But finally they came.
Just like in D2 and all, you get a bunch of items of same type (name) and you get set bonuses.
Boss Monster Set Drops
They drop from Boss monsters, and having more and more of the set will give you more?
POWER!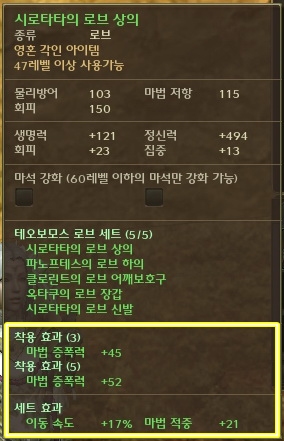 Crafted Sets
You can make a set item with crafting. Simple.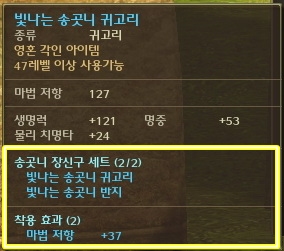 6. Unique Artifact Weaps + Shield Series
This Video Explains All.
YouTube - Aion KOR - Funny Weapons
YouTube - Aion KOR - Funny Weapons
7. New Craftable Items
With the level cap being raised to 50, new craftable items have been added.
8. New Vitalities
With the level cap being raised to 50, and new craftable items being added, new Vitalities are necessary.
P.S.: Getting ridiculous, chances of finding a 산삼 in real life is astronomical.
9. New Character Titles
3 New titles for each race, for a total of 6. They can be acquired from the new area quests in Theobomos and Bluesthonin. Currently 2 of the titles cannot be acquired. Don?t ask.
Some of their affects:
Movement speed +5%
+40 HP
-6 Magical Resistance
+6 Dodge
-45 HP
+15 Magic Boosting Power